X6 inkjet printer applied to flexible packaging
【Customer overview】
Hunan Hongyu Plastic Packaging Co. Ltd. in Zhentou Town, Liuyang, Hunan province mainly engages in plastics,Specialized in manufacturing plastic packing boxes and containers. The company has good products and professional technological and sales team. It belongs to Changsha Plastic Molding Company.

【Customer requirement】
The customer Hunan Hongyu Plastic Packaging Co. Ltd. required to inkjet print variable QR codes and numbers on flexible packaging (roll or sheet). The QR code dimension is 10*10mm ~ 15*15mm. Sheet material customizes totally enclosed hood. Roll material customizes lens light shield according platform structure and UV-LED lamp position. The mounting position of roller contact surface and sensor required hand roller contact surface. The qualified scanning rate is not less than 99.9%. Fixed line pipe direction was required.
Remarks: additional requirements:
1. Ceramic surface treatment.

2. Static picture monitoring.
3. Platform docking. Pre-sale responsible for technical configuration.
4,Double- sided correlation inspection, marked with dot matrix machine.
5,Hand scanning inspection device.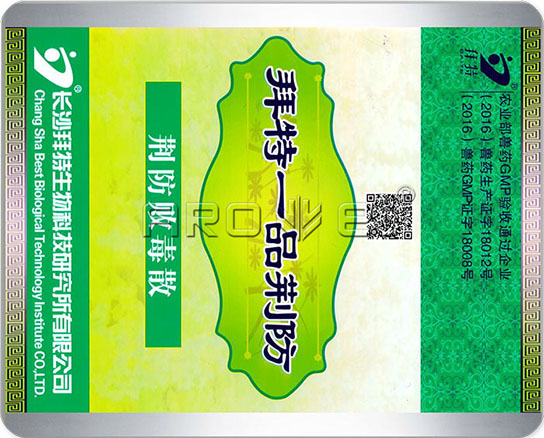 【Inkjet solution】
China AROJET INK JET Technology Co. Ltd. engineers recommended X6 digital variable data industrial inkjet printer combined customer production line and requirements. The customer purchased two X6 machines, installed in gravure press and Huiteli roll platform each with double heads and single row. Much shorter inkjet planes were required. The material under the print head is much smoother and the printing is much more stable. The roll to roll printing positioning precision was ±0.5mm. Sheet feeding was defined by platform stability and the shape of material.
Remarks:The distance from the printhead to the substrate is within 0.5mm-2mm., the shorter distance the better effect. Single-row (sliding type) UV-LED lamp was configured for installation. The main cabinet and the LED lamp were installed at the side of the platform. For sheet material the printing process is: sheet feeding—corona—sensing—inkjet printing—UV curing—sheet receiving. For roll material the printing process is: roll material- feeding—corona—collecting—inkjet printing—UV curing— inspection— stroboscope — rewinding, finish printing processes.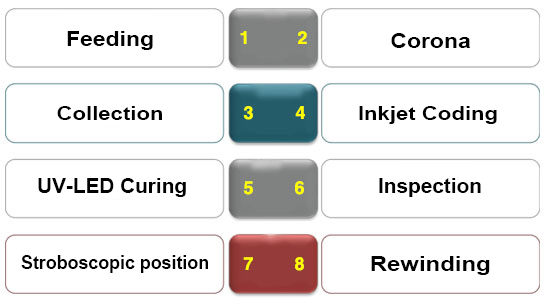 【System control】
There are two tension stages which are feeding and rewinding in the whole system. The tension can be controlled automatically.
The whole system is integrated controlled by Japan PLC and human-friendly. The system is stable and reliable.
The machine has the functions of residual material automatic control and lack of material protection.
User-friendly design in machine structure + smart function design make the machine operate simply and effectively.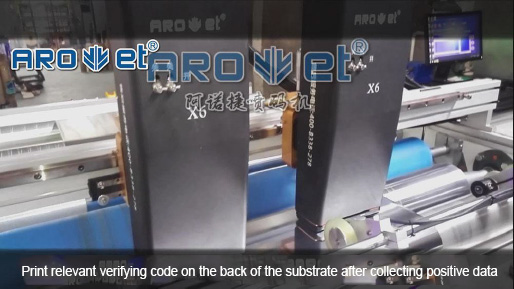 【X6 digital variable data inkjet printer features】
1. Stable high-speed inkjet printing. Up to 300m/min stable high-speed printing, a whole set automatic solution, we are proud of X6 printing
speed in the same industry.
2. Personalized diversity. Can be combined with customer platform to achieve linkage, DIY individual customization.
3. Personalized intelligent software. The software is easy to learn and operate, customized developed according to the functions of project
production including the application of layout, anti-overlap code, data check, barcode modification, cost control, logging, etc.
4. Precise positioning. The encoder detects the platform speed. The system positions accurately with deviation of ±0.5mm, The printing quality
is much more stable.
5. Stable ink supply system. Stable ink road is the pulse of inkjet printer. The system use world advanced negative press ink supply system, to
make sure the ink system is stable, reliable and have long service life.