X6 High-speed inkjet printer applied to food flexible packaging
Chengdu Fangyao Packaging Printing Co., Ltd. is located in the Southwest Airport Economic Development Zone of Chengdu City. It is only 10 kilometers away from Chengdu City. It covers an area of more than 15,000 square meters including more than 8,000 square meters for workshop, with convenient transportation and beautiful environment. Since its foundation in 1991, the company has always adhered to the principle of "scientific management, good faith and compliance, continuous improvement and customer satisfaction". It has won the trust and cooperation of many enterprises both inside and outside Sichuan province, and has been awarded the honorary title of "respecting contract and keeping promise" by Chengdu Industrial and Commercial Bureau, the honorary Titles of "advanced enterprise", "civilized enterprise" and "learning enterprise" many times. It is a dynamic plastic packaging enterprise.
【Customer requirements】
The customer required to print variable QR codes + variable numbers, 60-80 bit two-dimensional codes and 15mm*15mm two-dimensional codes on the fixed position of food flexible packaging. At the same time printing position precision is +0.5mm, with clear and non-fading printing quality. The scanning rate of two-dimensional code is not less than 99.9%. The size of roll-up material is the widest 1200mm and the narrowest 500mm. The horizontal spacing of printing is 300 mm/15mm and longitudinal spacing is 400 mm. The gravure press normal production speed is 140 m/min and this speed can be maintained after AROJET inkjet printer installed in the production line.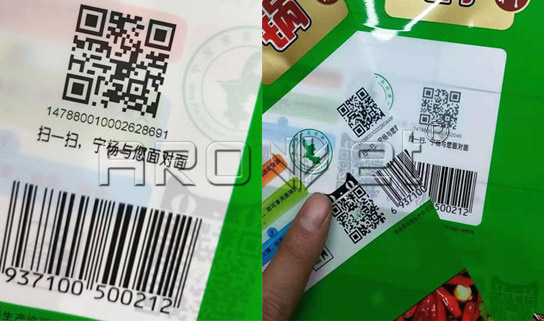 【Inkjet solution】
AROJET engineers recommended X6 three-head variable data inkjet printing system according to customer requirements and actual conditions. Installed in customer gravure printing machine online. Three independent print head were arranged in three rows by three supporting brackets. At 480dpi the inkjet printing speed can reach 70m/min, at 600dpi the printing speed up to 55m/min. Software printing mode tracks color sensor, with configured PLC automatically controlling the power of LED lamp. The printing process was: Unwinding - Printing - Reserved transparent film for inkjet coding - Printing background color at the coding position - Rewinding - Film coating – Bag making, and the whole process was completed.
【X6 inkjet printer features】
High-speed industrial print head, X6 uses RICOH industrial piezoelectric print head
High precision and high resolution, with lowest ink loss
Accurate seamless stitching, perfect printing content
Highly integrated board, high transmission efficiency, the software supports secondary development.
Inkjet printing content: variable and fixed texts, pictures, one-dimensional codes, two-dimensional codes, anti-counterfeiting codes,
Chinese codes, dot matrix codes, characters, symbols, lines, boxes, etc.
X6 supports up to 55 kinds of resolution and basically covers all possible drug regulatory codes.
【X6 image area array variable information detection system】
The image area array variable information detection system can be installed on all kinds of roll paper and sheet paper presses. The variable information can be read and detected by four horizontal array cameras. The identified data can be searched and compared with the verification source data imported into the database. The quality problems of data such as no code, error code, bad code can be found in time. After the quality problems of variable information data are found, the detection can be carried out. The system sends out sound and light alarm and reminds the machine platform to ensure that no data quality accidents occur in the products manufactured.