X6 High-speed inkjet printer applied to double-side printing on betel nut packaging
【Customer overview】
Hunan Caida Packaging Printing Co., Ltd. was founded in 2003. It is a printing enterprise which integrates printing, composite and bag making. The company has won many honorable titles such as "Excellent private enterprises" and "Quality and integrity units", and is now a member of Hunan Province Plastic Color Printing Industry Association. The company environment is good, with air conditioning configuration in workshops and employee dormitories. The company provide excellent conditions for the promotion of employees.
【Customer requirements】
Our AROJET Engineers carefully analyzed customer requirements. Kouweiwang betel nut food packaging bags belong to soft packaging materials, inkjet printing content was based on one-dimensional codes, two-dimensional codes, images and numbers. In order to cooperate with the promotional activities such as anti-counterfeiting traceability and profit-back raffle, it was proposed to print variable verification codes inside bags and variable two-dimensional codes (QR code)on the outside of bags. The "visible code" QR codes (12*12mm) printed on the surface of bags, which could be scanned by everyone at will should coexist with the number verification codes (10*10mm) inside bags to play a role.
According to the platform structure and curing lamp position at customer site, the shade plate was customized, the synchronizer was installed on Huiteli roll to roll platform machine with roller shaft contact surface, The inkjet printing quality was required to be clear and no fading, the QR code scanning rate was 99.9%.
Note: Additional requirements:

1, The layout of Kouweiwang packaging bag is one sheet two couplets, which need to be equipped with two print heads.
2, Film structure: 3 layers. The outer OPP printing layer needs to inkjet print QR codes on the surface, about 12 mm*12 mm in size, the middle aluminum foil insulating layer needs to inkjet print four-digital codes for lottery on it, digital codes were associated with QR codes, and then the composite machine coated the PE film on the inner layer.
AROJET X6 flexible packaging variable data inkjet printing system can meet the special requirements from the customer.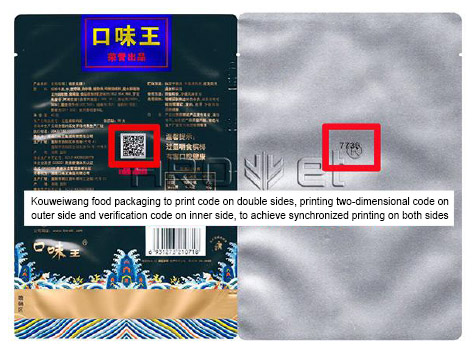 【Inkjet solution】
According to customer requirements and the actual situation of production line, AROJET engineering team recommended X6 dual-head variable data inkjet printing system matching with customer Huiteli roll platform and equipped with collector cameras. Two print heads were installed in a single row. Using single-row sliding LED lamp configuration, the main control cabinet and LED lamp were placed on the side of the platform.

Production process: first feeding to coding print the front surface, second feeding to collect the front QR code and reversed digital verification code, realizing the correlation between the front QR code and the reversed number verification code , then entering the bag-making process and marking and eliminating the defective products.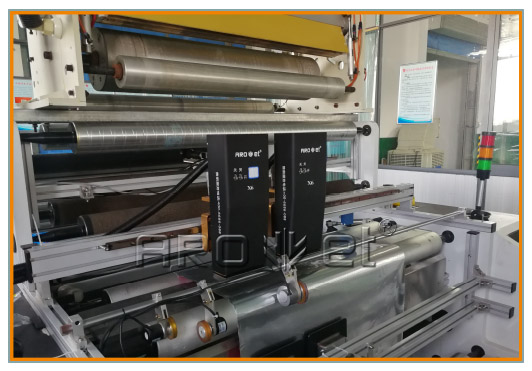 【X6 inkjet printer subassembly list】
1. AROJET X6 high-speed inkjet system: customized RICOH print head, with two sets of print head assembly. The printing width is 50mm max. At resolution of 600*600dpi the printing speed reaches 200m/min.
2. Data collection and correlation device: area array camera, professional symmetrical light source, data collection card, data flow abutment association.

3, UV-LED curing system: Two sets of curing lamp configured, water cooling system, automatic alignment function.
4. Detection and rejection system: Added on bagging machine, area array camera, professional symmetrical light source, Kouweiwang customized detection and rejection device, eliminating products without four digits on the inner side.
5. FPR-1300A special rewinding platform for code printing: 3 servo motors, shaftless rewinding and unwinding, import follow-up deviation correction, ceramic surface treatment, electrostatic removal device, static export monitoring and manual detecting configuration system.