X1 two-head inkjet printer applied to label
【Customer overview】
Guangdong Foshan Supengcheng Printing Plant provides one-stop service for the whole process from design, layout, CTP direct plate making, printing, post press processing. It provides suitable printing solution for the customer according to customer requirements. It has become the large-scale comprehensive printing manufacturer in Foshan. With a keen insight into market trend and a deep understanding of consumers and enterprises, they have many customers in the Pearl River Delta region and all over China.

【Customer requirements】
Foshan Supengcheng Printing Plant required to print 12*12mm variable data two-dimension code in rolled labels with width within 280mm. The roll material is 280mm wide, 1000m long and 600mm in diameter. X1 double heads inkjet printer was installed online on the Liguan cutting and molding machine. No light leakage was accepted for the LED light shield. Enclosed shade hood was required. Qualified rate of two-dimensional code is not less than 99.9%.

【Inkjet solution】
Guangdong AROJET INK JET Technology Co. Ltd. pre-sale engineers and technicians recommended x1 digital variable data UV-LED inkjet printing system to the customer, with double heads inkjet unit, installed in two rows in the production line, the front and rear staggered installation can seamlessly stitch the printing contents. The customer site platform met the inkjet printing requirement. We designed print head supporting brackets according to the product layout requirement, combined with customer platform. The printing precision is ±0.5mm. The online printing speed is 0-100m/min. The code printing process is: feeding-deviation rectifying-inkjet printing-UV LED curing-coating-cutting-winding, the printing process finished.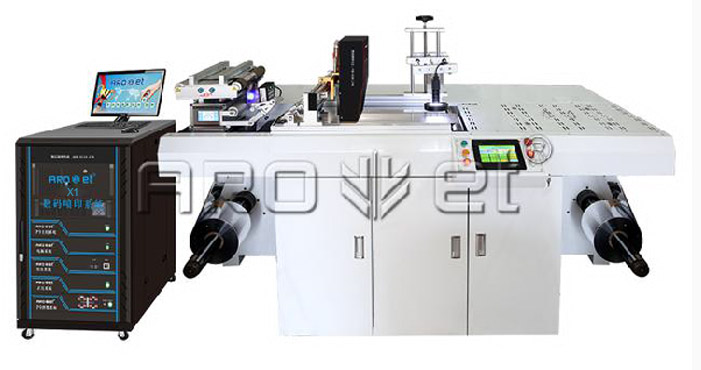 【Introduction to various sections of inkjet printer】
1. Main control and operation unit:Self-developed digital inkjet printing system, user-friendly intelligent operation interface,
automatic convenient positioning, comprehensive control and easy operation make it a perfect experience.
2. Inkjet printing unit:Use stable inkjet printing system, industrial piezoelectric print head, all steel design, the surface of nozzle plated with
Gold, long service life and low maintenance cost. It is the longest service life print head in present industry.
3. Deviation rectifying unit: Adopt color sensor, which is a standard photoelectric sensor. In automation field, photoelectric sensors generally offer all the benefits of fast and non-contact monitoring.
4. Synchronization unit:Detection elements is mainly used to detect the angular position of the platform motor, and convert it into linear
running distance, so as to achieve precise positioning and printing.
5. Curing unit:Use UV-LED curing method, with fast curing speed. Water cooling equipment can achieve ultra-low temperature to save energy and improve efficiency. No irritating gas is generated.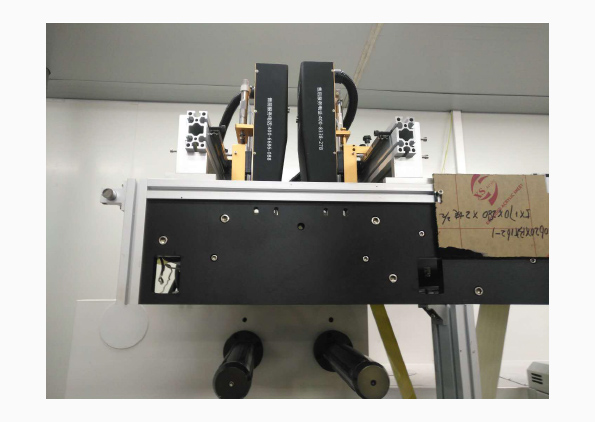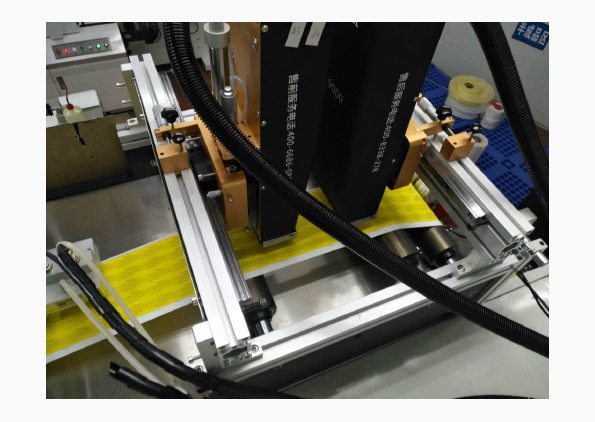 Usually the standard list of delivery parts