C3 Side-jetting inkjet printer applied to beer industry
【Customer overview】
Huarun Snow Beer (China) Co. Ltd was founded in 1994, which is a national professional beer company which produces and manages beer, headquarters in Beijing, China. At present, Huarun Snow Beer operates 98 breweries in China, including snow beer brands and more than 30 regional brands. It has a total share of 24.77% of the Chinese beer market.
【Customer requirements】
The customer required variable two-dimensional codes and bar codes printed on Snow Beer cartons, focusing on fast drying, scratch resistance and scanning. C2 side jetting industrial inkjet printer was installed in customer production line to print codes simultaneously. The automatic printing process is fast without missing codes, error codes and overlapped codes. The inkjet code printing should be in high definition. The qualified scanning rate of variable two-dimensional code and barcode is not less than 99.9%.
【Inkjet solution】
C3 Side jetting variable data UV inkjet printing system has stable ink supply system and convenient installation. It can achieve single-sided jetting, double-sided jetting, side jetting + downward jetting and is an ideal equipment for code printing on external packing box . Used C3 side-jetting inkjet machine, customized large-scale non-standard transportation platform, combined with customer production line to automatic code printing on the outer packing boxes, and uploaded data to achieve anti-Counterfeiting anti-tamper tracking, AROJET engineers perfectly meet the customer requirements.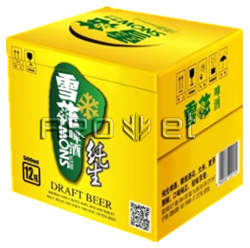 【Inkjet features and results】
Strictly control one object one code (unique code), no error code, duplicated code and missing code.
High adhesion, anti-friction, scratch resistance and alcohol resistance.
High precision and high definition, traceability coding content.
Variable QR code and barcode scanning passed rate can reach 99.9%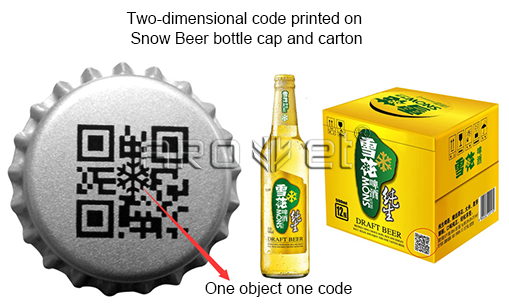 ◪ Side- jetting printing is the unique function of AROJET C3 inkjet printer.

◪ High-definition, high-precision, good printing quality.

◪ UV-LED curing and negative pressure ink control which has low ink loss.

◪ Software interface is more human-friendly.

◪ Environmental-protection, without any harmful substances to the environment and human body.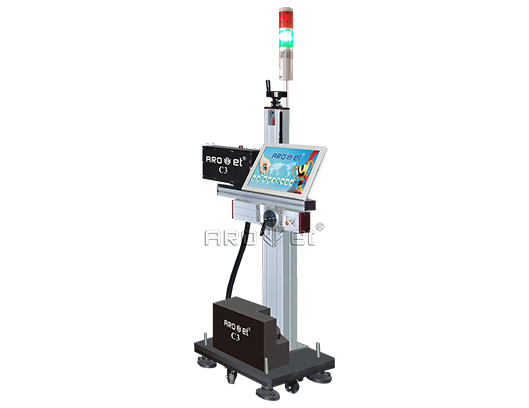 【One object one code flowchart through AROJET inkjet printing system】
The inkjet printing machines developed and manufactured by AROJET company have powerful "one object one code" traceability function. For example, the variable QR code applied in Snow Beer has the advantages of large amount of information, high error-correcting ability, wide coding range, encryptible compilation and high coding reliability. One-object-one-code tracking can better supervise the products and improve the anti-counterfeiting traceability and credibility of the products.