C1 applied to electronic regulatory code printing
【Customer overview】
Golden Throat Holdings Group Co., Ltd. is a leading manufacturer of throat moistening tablets in China. It is a tablet mainly used to relieve throat pain and throat hoarseness caused by dry and acute laryngopharyngitis. In the past two decades, Golden Throat has become a well-known brand in China and a leader in China's market of throat moistening tablet. The company's moistening throat tablets including Golden Throat tablets and Golden Throat Treasure series account for the largest market share of China's moistening throat tablets which is about 25.8%.
【Customer inkjet coding requirements】
Golden Throat customer required that electronic regulatory codes be inkjet printed on Golden Throat Baodule throat tablet iron box, which could give each product a unique electronic regulatory code and realize "one object one code" management. Dynamic information such as manufacturing, transportation and consumption of corresponding electronic regulatory products could be collected into the database in real time. In addition, electronic regulatory codes have beautiful appearance and can achieve scratch-resistant effect. It is also used for printing manufacture date, expiration date and batch number on packaging boxes and PE bags to meet customers' various requirements.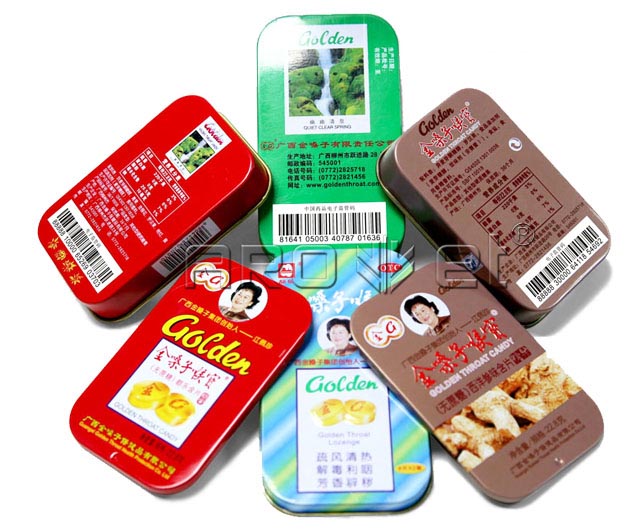 【Inkjet printing solution】
Adopted AROJET C1 digital variable data UV inkjet printer, combined with the customized non-standard platform to implement printing. The fixed position on the back of Houbao iron box was completely aligned with the inkjet printing of regulatory code. The electronic regulatory code was distributed to the drug box. Through this electronic regulatory code, a qualified identification code was given to the product, and the manufacturer and the distributor can quickly understand the market situation of the product, protect its intellectual property rights, achieve brand promotion and track logistics information.
1. Model: C1 variable data UV inkjet printer
2. Functions: print product information, such as variable one-dimensional code, two-dimensional code, manufacture date, expiration date, serial number, product batch number, etc.
3. Features: Flexible layout, convenient and practical, easy to operate and non-standard customization.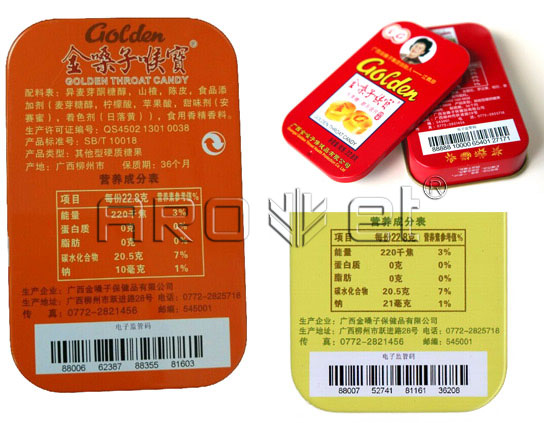 【C1 advantages for coding on iron box】
Tin packaging has the featuress of sealing, preservation, light avoidance and strong anti-oxidation. It is mostly used in the packaging of high-end products, pharmaceuticals, health products, tea and other products. In tinplate packaging containers, it is often necessary to identify one-dimensional bar code, two-dimensional code, official website, electronic regulatory code, etc. to achieve traceability and quality supervision of each product. AROJET C1 variable data UV digital inkjet printer is usually used in tinplate box to achieve automatic coding and marking. It can also be used for printing bar code, production date, batch number on paper boxes and PE bags.
-Tin coding have the advantages of high adhesion, uniform and stable ink color, anti-corrosion and scratch resistance.
- High precision and high definition, high efficient production.
- C1 inkjet printer can be used to arrange to print before iron box forming or to select single coding after forming.
- Variable and flexible inkjet printing to increase the added value of products.