C1 applied to bottle cap for QR code printing
【Customer overview】
Anhui Baishijia Packaging Co. Ltd. integrates planning, design and manufacturing, specializes in diversified aluminum anti-theft cover, plastic anti-counterfeit cover, heat-shrink and metal color plate. Annual revenue is RMB 300 millions. The company always persists in the concept "Quality decides survival, reputation determine development". Since the establishment, it has been set up good solid long-term partnership relationship with more than 100 well-known companies in China. It is one of the leading enterprises in bottle cap manufacturing industry in Anhui province even in China. It has won many honors, such as Anhui Provincial People's Government contract-abiding and credit-abiding enterprise, the state-level contract-abiding and credit-abiding enterprises, and the top 100 packaging enterprises. The products of the company were awarded the famous brand products of Anhui province. Baishijia trademark has been rated as China's well-known trademark.

【Customer inkjet coding requirements】
The manufacturing process: Feeding -guiding-sensing-inkjet printing-UV curing-customer platform.
Material inkjet precision: is ±0.5mm, printing speed: is 20~25m/min.
Qualified rate requirement: Two-dimensional code (QR code) printed on the material surface, the strength is 40-60N. Qualified as nail scraping 3-6 times but not falling.
Printed Material: Big iron sheet, iron bottle cap.
Printed content: Variable data two-dimension code (QR code size is 7mm-15mm), numbers, etc. (As the samples).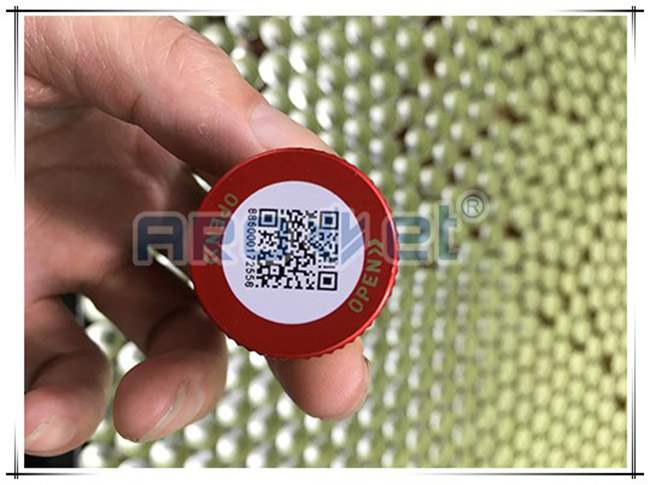 【Inkjet printing solution】
C1 single sheet variable data UV digital inkjet printer was adopted and installed, with 14 print heads. The size of two-dimensional code was controlled within 7mm~15mm. According to customer product layout, the inkjet printing machine was installed in the paper feeding platform, and the print heads were arranged by two guideways, one row of single platform and one row of double platform are used synchronously in the production line. The platform belt drives the material feeding. The manufacturing process: feeding–transporting-sensing-inkjet printing-UV LED curing-receiving. The printing precision is ±0.5mm, the printing speed is 20~25/min.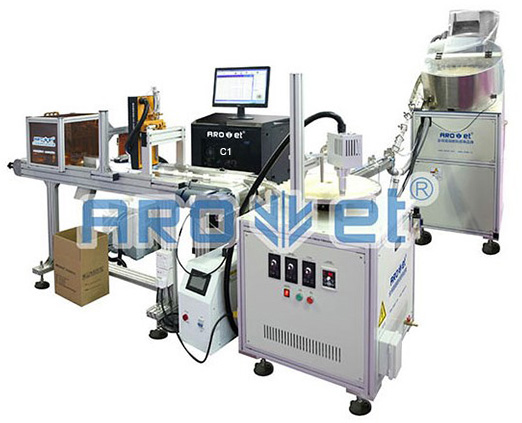 【C1 features for bottle cap coding】
Bottle cap is an important part of food and drink packaging. The two-dimensional code printed on it contains a lot of information content, such as manufacturer's name, contact information, manufacturer's address, product code and other important information. AROJET C1 model is often adopted for QR code printing on bottle cap. It has excellent printing effect and fast scanning speed, and has been widely used in many food, beverage, bottle body, bottle cap and bottle bottom in China.
- Multi-stage temperature control technology is adopted in the inkjet system, which makes the printing UV ink temperature more stable and the printing quality better.
- Using KONICA industrial piezoelectric print head, high precision and high definition.
- Configured automatic detection, alarm and removal equipment to achieve qualified scanning rate 99.9%.